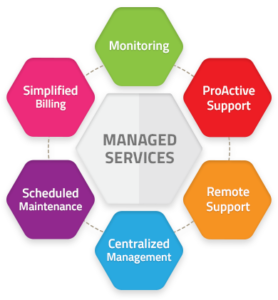 "Project management is the discipline of initiating, developing, executing, managing, and finalizing the work of a team to achieve specific goals and meet specific success criteria"
Regardless of your organization's size, you can benefit by making the NordStar Group your managed services partner. NSG managed services are easily tailored to your organization's needs.
We offer a full portfolio of managed services that will help relieve the stress on your IT staff of day-to-day management and give them time to devote to improving your infrastructure rather than just managing it. Most enterprises realize reduced costs by using a managed service provider rather than internal resources.
Additional benefits include:
Increased operational efficiency
Continuous monitoring
Minimized downtime
Managed security
Device management
Access to enterprise support
Preventative maintenance
Software updates and patch management
Data Services and Periodic business reviews
Managed services allow businesses to take a proactive approach and prevent problems before they occur. Contact NSG and let us customize a managed service program to fit your business.